Combining Consumer Loyalty With Giving
(2012)
Created a multi-platform system to drive customers, improve their experience, and support causes
Perkify gave diners a VIP experience while allowing them to easily support their favorite causes.
Created a business strategy that brought together restaurants, diners, and nonprofits.
Defined platforms for reward program management, mobile app experiences, and a back-of-the-house product for restaurants.
When social-local-mobile seemed like it would eat the world, we had a different spin on consumer loyalty. What if, instead of just getting a free drink as a reward for customer loyalty, you could help out your favorite cause?
Here's how the business model works.
Non-profits and schools would tell their supporters to use Perkify at their favorite restaurants Those people would go to the restaurants, check-in and purchase to earn rewards using our Perkify app. The rewards are a mix of things for them (like a free drink) and donations to their favorite cause.
The restaurants would get new and loyal customers, support their community and even get a tax write-off.
The non-profits would see an entirely new revenue stream, and it wouldn't cost their supporters a dime!
The users would earn great perks at their favorite restaurants as well as get a customized VIP experience.
This was the vision that I had along with two other co-founders. My title was CEO, but as a co-founder, I had many additional roles including business strategy, product design, and UI/UX design.
more than just check-ins
View Screens
Our mobile app is a core piece of the Perkify experience. Here, users can explore their favorite places and gain points by doing various activities such as checking in, completing challenges, giving feedback and letting us know their favorite foods.
The users would then be able to use their points to redeem cool perks for themselves or have the restaurant make a donation to their favorite cause. With Perkify you can help others or help yourself.
We did numerous interviews with restaurants and users to find out the things that mattered the most to them. For the restaurants, it was getting people in the door, and then being able to give them a great experience so they would come back.
For the users it was to find new and cool places, earn fun rewards, and feel good about helping others.
Perkify was designed to deliver on all counts.
back of the house
The mobile app is only the first piece of the puzzle. Our server app lets the restaurants deliver a magical experience to the customers. When a guest checks in, they appear in the server app. The server can then see their allergies as well as favorite foods, birthday etc. There is even a notes section to add any additional likes or requests from the guest.
By knowing the guests allergies, favorites and preferences; servers can upsell the guest's favorite items and guide them away from foods they are allergic to. Now everyone can get a VIP experience.
The app also allows the server to redeem perks from the user. A unique two digit number is generated and matched on redemption. This eliminates fraud. The server then enters their ID for tracking and the transaction is recorded for the restaurant's records as the guest gets the perk.
View Screen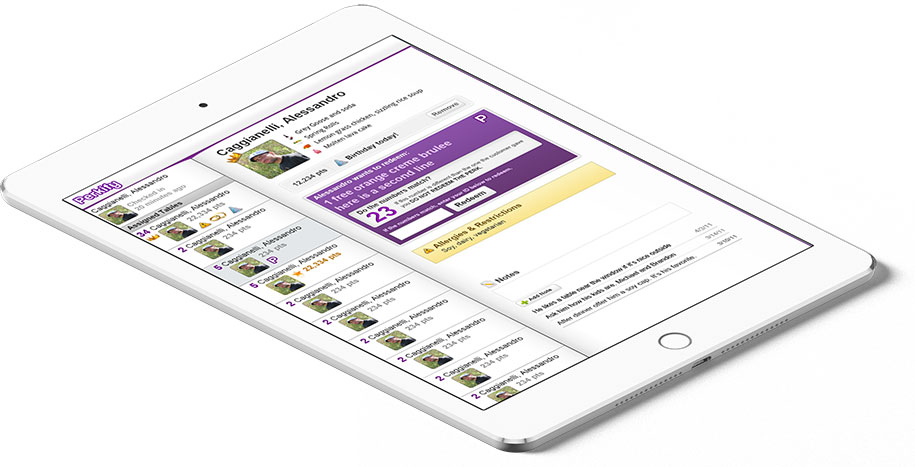 full control
We designed a robust application for the restaurant owner. They can create a complete rewards program as well as get valuable insight on guest trends and other essential metrics.
The screens I have for this piece are lower fidelity since we were designing it around the time we closed shop.
View Screens
how did it go?
As with any new startup there were a lot of challenges and lessons. One of our biggest lessons was that our model was too complex. It is hard enough to get users to adopt your app. It's even harder for two types of users to work together with your platform (restaurants and users). Adding a third leg of nonprofits makes things practically impossible.

While the concept sounded great, getting everyone to play their part well was more challenging than we thought.

Even though Perkify didn't make us millionaires, we all learned a great deal and received a lot of valuable experience in the process. If you're interested, I'm happy to tell you more about this adventure when we chat.